Full antislippery tunnel
Professional, 60 cm diameter, full antislippery tunnel for dog agility.
The tunnels are made of durable material with antislippery texture.
The enduring spiral wire guarantees that the tunnel will maintain its shape and diameter.
The antislippery tunnel can be used both for training and competition. 
It is recommended to use a full antislippery tunnel outside and in difficult weather conditions (rain, moisture, low temperatures).
The elastic fabric enables the tunnel to keep antislippery properties even in low temperatures. 
For both standard and antislippery tunnels we recommend professional tunnel holders with antislippery bottom, designed especially for artificial turf.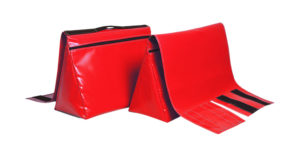 Our tunnels are frequently used in FCI agility competitions, also high level. 
Availability: shipping 7-14 days from the date of receiving the payment. 
Colours:
yellow

blue, 

red,

grey, 

pink, 

green,

purple. 
The spiral might be the same colour as the tunnel or one of many different colours available.
Maintenance: In order to keep the tunnel in good condition for as long as possible, do not compress it in below zero temperatures.
Safety rules: 
Remember to secure the tunnels with appropriate tunnel holders. We recommend at least 4 holders for 5 and 6 m tunnels, and at least 3 holders for 3-4 m tunnels. 
The 3m tunnels should be used only as straight tunnels. 4m tunnel can have a slight bend. 5 and 6 m tunnels can be formed in curved shape. 
For halls with dim and artificial light only we recommend light yellow tunnels. 
Useful links:
Technical specifications: Tunnels are made from technical fabric, covered with PCV on both sides. Total thickness of the fabric is 0.55mm. Density 610 gr/m2.
Tunnels' weight
Length of tunnel
Weight
2 m
10 kg
3 m
13 kg
4 m
16 kg
5 m
19 kg
6 m
22 kg